I've been fortunate to spend many months on Mafia Island – it's my absolute favourite place! In fact, I had my 5th visit to the island just last year…I can't keep away! I've visited all places on the island, participated in every activity available and stayed in lots of different lodges.  I put this complete Mafia Island guide together for travellers wanting to visit Mafia Island, Tanzania – for all budget types!
This Mafia Island guide will answer all your questions: How to get to Mafia Island; when is the best time to go to Mafia Island; what are the best things to do when there; and how much does Mafia Island cost?!
Now is the time to visit Mafia Island, Tanzania….while it remains relatively hidden. On this small cut-off island, you will find beautiful beaches, a slow pace of life and friendly, shy locals. Depending on the season, you can swim with whale sharks, spot humpback whales and even spot Turtles nesting. This island is the definition of relaxation, and while there are mostly luxury lodges on the island, it is definitely doable for budget backpackers.
You may also want to check out my other related blog posts:
If you need any more inspiration, check out this short video, which gives you a taste of what visiting Mafia Island is like:
Before we start…
If you are new to this blog, I'm Bex Band….a full-time adventure traveller! I share all my adventures via this blog and on my social media platforms. Make sure you are following me on Facebook and Instagram to see where I'm heading to next!
I also founded Love Her Wild, the UK's largest women's adventure community. I published a best-selling book, Three Stripes South, about my first big adventure hiking the length of Israel.
How to get to Mafia Island?
Firstly, you will first need to get an international flight into Tanzania's capital, Dar es Salaam. From there, you have 2 options for getting to Mafia Island: either flight or ferry. Flying is definitely the easiest (less scary/stressful) way to get to the island as I explain below.
A lot of people are put off visiting the island because there isn't a lot of information online about how to get to Mafia Island. Don't let this deter you, though, as it really is relatively easy!
This is a great chart put together by Afro Whale Shark that demonstrates the different travel options to Mafia Island:
Flying to Mafia Island:
The flights leave from Dar es Salaam and cost roughly $150 one way in advance (with either Coastal Air or Auric Air). We booked directly with the agent at the airport the day before and were charged the local rate, $75 one way (apparently, they will give you the local price if you book in person within 2 weeks of the flight, although I'm not sure how true this is). I have also been told that if you can be flexible, it is possible to haggle an even cheaper last-minute deal.
For the cheapest flight booked in advance, speak to Afro Whale Shark who is able to offer reduced discounts on the flights as he works directly with the airline.
Top tips when flying:
International flights arrive at Terminal 2. The small domestic flights leave from Terminal 1. It is a 20-minute walk (outside) between the 2. In the daytime, there is a free shuttle you can catch or at night you can get an airport taxi to take you there costing $5 (you'll need to haggle to get this price)
If you have a long waiting time in Dar es Salaam between flights it is best to use Coastal as they have a private lounge where you can wait. It's really comfortable and has air conditioning, wifi, comfy seating and free water and coffee. Note that the lounge is a 10-minute drive from the airport. Coastal will drive you there and back for free but you need to book this in advance with them so they collect you off your flight.
If you don't have a co-pilot on your domestic flight, you can ask to sit in the front! Also, keep your eyes peeled as sometimes you can see whale sharks from the plane.
Flight delays into Dar es Salaam are extremely common. Leave enough time between landing and catching your internal flight. They also once lost our bags. In your hand luggage, take your anti-malaria tablets, a change of clothing and a swimming costume.
How do you catch the ferry to Mafia island?
*Updated January 2023*
A tourist who caught the ferry in January 2023 advised me it is now even more difficult to manage the ferry crossing. They found the ferry port very disorganised and the ticket hard to buy (had to wait in a queue for over 1.5 hours in the sun). The staff unfriendly and unhelpful. They also reported that the ferry is now running only every 2 days.
I've looked into this, and it is because the government ferry is under maintenance, so there is only one ferry running with no indication when this will change. There are also a lot of strong north winds, which are disrupting departures. I'd strongly advise taking a flight until this situation improves.
Another option is to take the local government-run ferry (MV Bacara), which costs 16,000 TSH (roughly $8 one way). It is not uncommon for the ferry to be grounded for repair. There are also private boats available (roughly $25 a crossing), although I can't provide any insight into their reliability or safety.
The ferry to Mafia leaves from the mainland at Nyamasati. You can catch a local minibus (called a dalla dalla) here from Dar es Salaam Bagala bus station. This will cost around 8,000 TSH (roughly $4) although you may be charged the 'mzungu' (foreigner) price.
The bus takes about 4 hours (but can take longer with traffic) and leaves regularly throughout the day. The last bus is at around 5pm.
The ferry leaves Nyamasati ferry dock at 2pm on Monday, Tuesday, Thursday and Saturday. It is advised that you arrive no later than midday. Tickets can be bought when you arrive at the ferry dock. Most of the sellers are not going to speak English so it would be helpful to have a few basic words in Swahili….or to get a local to write down what ticket you want to purchase before you make your way to Nyamasati.
What is the ferry crossing like?
Well firstly, I'm pleased to report there have been some BIG improvements. The old ferry was horrendous…..it was like taking a glorified shed out into open water. I once saw a fully grown Italian man step off the boat in tears of prayer saying he thought he was going to die…..!!
Waves can be choppy. You are on the boat for around 4 hours, although in rougher weather, it will take longer. It's also not uncommon for there to be long delays leaving the dock (this is common in Tanzania…it's a different pace of life). The new ferry is looking much sturdier though. To start with, it has proper chairs!
Having said this, it is not a popular route and while there might be some safety measures onboard (I can't vouch for these personally), you should weigh up the risks as maintenance checks and rescue options are not going to be to a high standard.
Here are some pictures of the ferry to help you make up your mind:
How do you get around on Tanzania Mafia Island?
Mafia Island is very small. If you are staying in Kilindoni, everything is within walking distance. In the centre, there is the main road and a market. From here, the airport is 5 minutes (walk), the port 5 minutes and a swimmable beach 15 minutes walk, with all restaurants and bars (there aren't many!) sitting in between these places.
To travel to the marine park, on the other side of the Island, it takes half an hour and you will need a taxi. If you do a tour a transfer will be included. Most of the accommodations on the island will also come and pick you up from the airport if you ask.
There are Tuk-Tuks on the island and this is the most common way to get around. A 10-minute tuk-tuk ride is usually in the region of 5,000TSH (roughly $2.5). If you ever need to order a tuk-tuk or taxi, ask your hotel reception or hail one from the street.
Don't forget to give me a follow on Facebook, Twitter and Instagram. I regularly share pictures of my travels and Whale Shark swims from Mafia Island!
What sockets do they use on Tanzania Mafia Island?
Type G sockets (the same as what we use in the UK)
Are there ATM's on Mafia Island, and what currency should I bring?
Most places will accept US Dollars (for tours, food, drinks and taxis). You might pay slightly more for paying in USD but it isn't a huge difference. The only place you will need Tanzanian shilling is if you are in the market eating a local meal or buying some fruit….there are no crafts or souvenirs to buy. There is an ATM on the island for taking out cash. There is also an ATM and exchange booth at the international airport. To work out how much to bring check out my budget breakdown: how much does Mafia Island cost.
Make sure you have the right Insurance (and first aid bits)!
It's not uncommon for bags to be lost by airlines……as I found out on one of my visits (groan). It took over a week for our bags to reach us after it was accidentally sent to a remote island off Mozambique!!!
Also, although Mafia Island has a hospital, the island is remote, and the facilities are basic. So you'll want to be insured and make sure it's a company that covers plane travel for medical purposes should the worst happen, as well as snorkelling with whale sharks or diving if you intend to do this. I used World Nomads for my travels.
World Nomads Travel Insurnace
It's important that you have travel insurance for your travels. World Nomads are a travel insurer that I've used multiple times before for my adventures. World Nomads covers more than 150 adventure sports and activities and worldwide coverage.
I'm part of World Nomads' affiliate program (which means I get a small recommenders fee if you choose to use them, at no extra cost to you). Get a quote here.
I'd also really suggest bringing a decent first aid kit with you and maybe speaking with your doctor about having your own antibiotics with you should you get an infection. Personally, I always take anti-malaria prevention, and of course, you'll need to be fully vaccinated. When you leave the island….please consider donating your first aid supplies to the hospital on the island if you don't need them anymore (your tour guide or hotel staff will help you donate them).
What's the best accommodation on Tanzania Mafia Island?
There are two areas to stay on Mafia Island: Killindoni or Utende. Killindoni is the capital of the Island, and Utende is in the Marine Park. If you visit (or stay) in Mafia Island Marine Park, you need to pay a fee of $23.5 per person per day. This is paid as you enter the Marine Park. They don't take cash so you need to pay this using a card.
If you want to avoid paying the daily fees, you will need to stay in Kilindoni. Note that everything in Kilindoni is very 'local', and there are barely any Western food options or hotel bars/restaurants. Staying here will allow you to experience the real side of Tanzania Mafia Island. I especially enjoyed going for walks along the beaches (a lot of them are mangroves) or wandering through the towns.
Utende's beaches are slightly better but I don't see a huge difference. I think the biggest advantage of Utende is there are more lodges so you have a few more options for food (assuming you want to eat in restaurants rather than local food in the market).
All excursions are easy to get to from both sides of the island. The Whale Shark tours leave from Killindoni (you don't need to pay Marine Park fees) and the snorkelling and diving is from Utende. It is nice staying on the beach but I personally prefer being sat back slightly as I find the noise and the wind from the sea to be a little tiring after a while.
Below is a breakdown of the best hotels by my absolute favourite place to stay is Bustani as I think it is excellent value for money – it feels very luxurious and has a pool. The rooms are aircon and the service is better than most on the island.
I also have to give a special mention to Chole Mnjini (more on that below!!!).
Here are some other places that are worth considering (prices for one person per night):
Budget: Whale Shark Lodge ($30, No Marine Park Fees)
Stay in traditional bungalows in a really fantastic setting is Whale Shark Lodge. The rooms are very large and have an en-suite bathroom. There is a fan in each room and a large bed with a mosquito net. The rooms are very basic. The hangout area is its biggest draw….the gardens are beautiful and it's very peaceful. There is a mangrove beach a short walk from the lodge. Killiondoni is about a 20-25 minute walk away or a 5-minute tuk-tuk. At the time of writing, Whale Shark Lodge was roughly $30 per person per night, including breakfast. Note that food at Whale Shark Lodge is very overpriced for a budget place (Lunch is $10 and dinner $15). There are cheap local restaurants nearby where you can pick up a meal for just a couple of dollars or you can try negotiating with the owner for a full-board deal.
Budget: Ibizza Inn ($30 No Marine Park Fees)
Another option is Ibizza Inn which costs around $30 per person per night (including breakfast). Firstly the good points – the rooms are spotless and the most comfortable of the budget options. You get a king-size bed with mosquito net, an en-suite and (the best draw) air conditioning!! Killidoni is on your doorstep with the market just outside. Unlike the other options, this is right in the centre so not near a beach. The restaurant sits in a treetop setting. The view is nice, and sometimes you can see interesting wildlife.
However….the music from the bar is loud at the weekends or if they have football on which was pretty distracting and not very peaceful. The staff were a bit sloppy (leaving our room unlocked when cleaning). The restaurant offers meals at around $5 but I don't have a good word to say about the food. Service is painfully slow (sometimes up to 3.5 hours!) and on lots of occasions, we found hair and bugs in the food, which really wasn't pleasant.
Don't ever book your activities with Ibizza Inn – we found they lied about who they were using and what you would get….their boats were in appalling condition and the tours were a mess!
Budget: Afro Beach Bungalows ($30 No Marine Park Fees)
There is also Afro Beach Bungalows. They are basic but on a beautiful stretch of beach. At the time writing a beach bungalow cost around $30 per person per night (including breakfast) or $50 for a double. Killiondoni is about a 20-25 minute walk away or a 5-minute tuktuk.
The bungalows are basic and smaller than Whale Shark Lodge but you do get a large bed with a mosquito net and an en-suite bathroom. The rooms are really not great so I would only stay here if you comfortable going local and specifically want the draw of the beach and getting to know Afro and his team (who are all lovely). The sunsets are spectacular!
Other budget options
I haven't seen or stayed in these places, but there is also:
If you want to really go cheap, Afro Beach Bungalows also offers camping options. For $5 per person with your own tent or $10 per person using their tent. This includes breakfast.
**MOST RECOMMENDED** Comfort: Bustani ($60 No Marine Park Fees)
Bustani is my favourite place to stay on Mafia Island, and it is fantastic value for what you get. Rooms are $60 per person, including breakfast. The hotel is sat in a really quiet and peaceful area and a short walk to a mangrove beach. The biggest feature is the pool and the beautiful lounging area. Rooms are large clean, and you get a super comfortable king-size bed, mosquito net and en suite. The staff are lovely, and the food is great….you can also get half-board options, which I would recommend. It's hard for me to find fault with this place!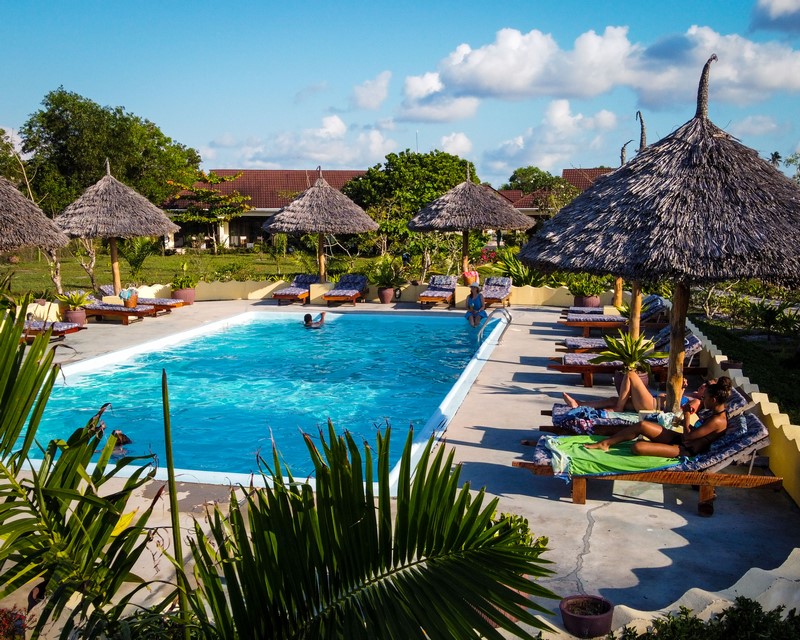 Comfort: Mafia Beach Bungalow ($35 plus Marine Fees)
Mafia Beach Bungalows offer a nice mix of local and good location. You stay in basic bungalows. The stretch of beach is very nice and is ideal for swimming. Rooms include breakfast and are geared towards budget travellers (although the marine fees do considerably increase the cost).
***SPECIAL MENTION*** Luxury: Chole Mnjini Lodge ($160 plus Marine Fees)
Chole Mnjini is an incredibly special place. The island of Chole is a short 20-minute boat ride from Utende in Tanzania, Mafia Island. This island is even smaller than Mafia and feels incredibly untouched and from a different time. There are no cars on the island, and last year, they had just 220 visitors! Chole Mnjini really does have to be seen to be believed.
Guests stay in their own tree houses built around huge beautiful Bao trees. The sides are open so from your bed (with a mosquito net) you can look out over the tropical trees and the sea view from your platform.
There are some really nice touches like a pulley system to send up coffee to you in the morning. Plus, dinner is served in ruins. It's incredible!! I'd recommend spending 2 nights here at the end of your stay in Mafia to do something a little special….try to time this with your activities in the Marine Park so you are reducing the amount of time you need to pay the fees.
Luxury: Butiama (No Marine Park Fees)
If you are looking for luxury but without needing to pay the Marine Park fees, then check out Butiama. Sat on the beach, with a spectacular restaurant/relaxation area and a pool, this hotel offers it all. This is also a nice beach area to go for a walk, and unlike Utende, this side of the island has all the sunsets. Guests have their own Bungalow and terrace. The hotel also has a yoga shala and spa.
Things to do on Mafia Island
So there isn't a huge amount to do on Mafia Island, and a lot of the activities are quite pricey. The biggest draw for tourists are the Whale Sharks. You can swim with them from October to February. You can also do Humpback whale tours from August – to September.
The Marine Park offers incredible snorkelling and diving. Other than that the only other activities are visiting Chole Island (which is really worth doing) and seeing the lighthouse on the mainland. For a full list of activities and costs, check out my list of things to do on Mafia Island. If you are coming to swim with the whale sharks, it's worth noting that you are not guaranteed sightings. It's best to leave yourself time in case you don't see them on day 1 or 2. I'd suggest at least a week on the island to enjoy the activities while also having a couple of days to rest.
Best places to eat on Mafia Island?
Budget options: Note that restaurants on the island are SLOW! It's not unusual to wait 2 hours for food to arrive. I got into the habit of ordering my meals at breakfast time.
Ibizza Inn has a restaurant that offers Western interpretations if you are bored of the local food. I find it hard to recommend them as I found hair and bugs in the food more than once, and the service was beyond ridiculous sometimes! Meals are roughly 10,000TSH ($5). They have a great bar/restaurant area sat in the forest overlooking palm trees and the surrounding wildlife. It's also a great place to grab a beer costing 3000TSH (roughly $1.50). Soda costs 1000TSH (roughly $0.50). Ask to eat in the garden by candlelight, where you have a good chance at spotting the bushbabies.
Afro Beach Bungalows also serve food. Prices are a little higher but still reasonable, and can eat on the beach by candlelight. It is very beautiful so worth splashing out for a romantic night on the beach. Just ask them in advance if you'd like this to be set up.
Kilindoni has a number of local restaurants. I call them restaurants but really they are women who set up a small table and a couple of chairs in the market around lunch and dinner time. They only serve 1 meal (usually rice, chapatti, beans, chicken and sometimes chips). For a vegetarian meal, I was charged 1,500-2,000TSH (roughly $0.75-$1). I'm sure that this was the tourist price! Costing only 100TSH, chapatis make a tasty and cheap snack (roughly $0.05).
The market is a great place to pick up fruit and snacks from mangos, pineapples, coconuts and bananas. I never paid more than 100TSH (roughly $0.50) and they will cut it up for you so you can eat it straight away. From time to time you might also be able to find Samosa and cakes in the market.
Other food options: The only other places to eat are the hotels and lodges. These are more expensive….usually in the region of $10 for 2 courses and $15 for 3 courses and from my experience, the food options and standards are pretty much the same from all of them. My favourite places to eat are Butiama and Bustani in Killindoni and Mafia Lodge in Utende. Mafia Lodge does a $5 pizza once a week (you need to contact them and book in advance to check when this is on) and a nice buffet the rest of the time. If you go into the Marine Park after 6pm you don't need to pay the fees so you can head to the lodges here for dinner if you fancy a change of scenery.
Top Tips for visiting Tanzania Mafia Island
I felt very safe on the Island and never had any issues with people being aggressive or hassling me (as a lone woman), even at night. Crime rates are low on the island.
Overfishing is a problem on the island. Tourists come to Mafia and overindulge on seafood. Doing this is taking food away from the locals and also the marine animals. Please do consider reducing the amount of fish and meat you eat to reduce your footprint when you travel here.
There isn't a huge amount to buy in the way of souvenirs. The lodges have a handful of overpriced crafts. There is 1 craft shop on Chole Island and 1 in Utende. I'd recommend heading to the market in Killindoni and buying fabric (the colours and patterns are traditional African). You can use it as a table cloth or take it to one of the many tailors to have a shirt or dress custom-made. This costs around $10 and takes them just 1 day to make!!
There is very little available on the Island so bring all the toiletries and items that you need with you. It's best to bring more sunscreen than you think you need as this is impossible to find on the island, and you will need a lot!
Sea urchins are plentiful here, so be wary when swimming from the shore. Bring a pair of sandals or beach shoes with you that you can wear when walking too and from the boats for activities.
Afro is a local guide who we use for all-out activities. His team were really great, and we got a good deal as we bulk booked with him.
Don't hand out sweets or gifts to the children on Mafia Island. Tourists did this in Zanzibar and have created a dependency (you get hassled constantly from children asking for money). If you want to donate items ask your hotel to pass them on to the school. But really the best way you can help is to spend your money in the market and tipping generously.
Spend time getting to know the locals…it will be a highlight of your trip!
Planning a visit to Tanzania…
I'm happy to answer questions on Tanzania Mafia Island and also on anything related to visiting the mainland – but please do use the comments box below to save me from repeating myself in email.
If you are also planning to visit Zanzibar I also put together this guide for Zanzibar. People often ask me if it's worth visiting both islands…..personally, I really dislike the over-tourism in Zanzibar. Mafia has very much stolen my heart! I also should mention that because of over-tourism and a lack of protection, Zanzibar's marine life and corals have been heavily damaged. Mafia always wins for me! You might find these blogs helpful:
I hope you found the Mafia Island Tanzania guide helpful.
You can stay updated with my adventures and advice on Facebook and Instagram. Or you can subscribe to my YouTube channel. I give all my advice for free on my website. If you want to say thanks, you can buy me a coffee!
Have the best time visiting this little slice of paradise……I'd love to hear how you get on in the comments!